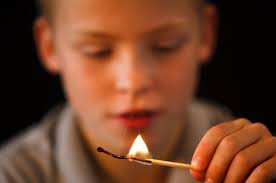 Did you know that children are responsible for 46% of all fires deliberately set in this country? Youth firesetting is an issue that impacts more than just the firesetter and their family. The Burn Institute is committed to assisting children who are currently firesetting or have the potential of firesetting through the Youth Firesetter Intervention Program (YFS).
The YFS Program was put in place to intervene in the lives of youth firesetters (as well as their parents or guardians) and educate them about the dangers and consequences of firesetting in an effort to suspend future action. The program consists of a FEMA assessment, which will identify the child's risk level, and then education intervention or referral to additional services.  The goal of YFS is to empower youth and their families to make better decisions regarding fire and prevent future firesetting through dissemination of accurate educational information.
 The Burn Institute takes referrals from community partners such as probation officers, fire departments, school police, etc. If you are interested in learning more about the program, or how you can make a referral, please contact us at YFS@burninstitute.org or call 858-541-2277.